Giuliano Vangi, The Enigma of Beauty
04 February 2014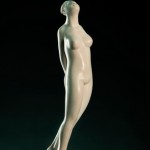 The exhibition "The Enigma of Beauty" scheduled at the Museum and Gipsoteque A. Canova in Possagno from the 11th of May to the 15th of June is dedicated to the Tuscan sculptor Giuliano Vangi. It is organized by Itaca Art Investments in partnership with the Canova Foundation and managed by Giovanni Faccenda and Mario Guderzo; also, it is part of the Third Edition of the International Art Prize Biennale of Asolo.
The artworks of Vangi (Barberino del Mugello, 1931), an internationally renowned figurative sculptor, to whom a museum in Mishima, Japan, was dedicated in 2002, will ideally merge with the artworks of Antonio Canova exhibited at the Gipsoteque, in an alive and fascinating comparison between past and present.
G. Faccenda writes: "The plastic artwork of Vangi insists, as always, in those mysterious facets of the substance where the enigma of beauty lies. Only manual talent, the fertile imaginative resources, as well as the infinite craftsmanship of an author who seems to be already stable in that ideal symposium created by our great ancient sculptors (from Arnolfo di Cambio, Donatello, Ghiberti to Cellini) can open the curtain of similar dizzying horizons, as usual suspended between ethics and aesthetics, views and vision, reality and dream".
Sculptures and drawings that focus on the human figure portrayed with strong expressionistic and existential connotations, according to the theme of contemporary man's struggle against adversity.
Open every day except Mondays. Hours 9.30 am to 6.00 pm.